Political and regulatory landscape
Due to the health risks associated with tobacco products, regulation of the tobacco sector is necessary and right. However, this regulation should be proportionate and should not lead to unintended negative consequences. In light of this, we support the promotion of better regulation that takes into account the views of all stakeholders, including tobacco companies.

As a tobacco company, we constantly face evolving regulatory challenges, e.g. public smoking bans, the adoption of plain packaging, and exclusion of our industry from regulatory and policy-making processes. Tobacco product carriesrisks to health. We therefore support appropriate regulations on our products and our industry.
However, stringent regulation can have unintended negative consequences for our consumers, our business, and wider society. We welcome constructive dialogue with governments and regulators pertaining to new legislation, but we have a right – and an obligation – to express our point of view regarding regulation that affects our products and our industry. We believe that tobacco regulation should be proportionate, evidence-based, practical, enforceable, and competitively neutral.
At a global level, we continue to follow the evolution of the WHO Framework Convention on Tobacco Control (FCTC). The FCTC Conference of the Parties (COP) takes place every two years and its decisions can have far-reaching implications on our operating environment. We are monitoring preparations for the next conference, and will seek opportunities to share our views with decision makers wherever possible.
Plain packaging remains a priority regulatory issue
With regard to tobacco product regulation, the issue of plain packaging, which is effectively a 'branding ban', remains one of the JT Group's top regulatory challenges. The branding ban should be a concern to all companies that value their intellectual property. The ability to build and use a brand is an important factor that allows businesses to thrive and economies to prosper. In order to defend our brands and their value to our business, we maintain a dialogue with stakeholders and communicate our views widely. This type of engagement supports our appeals for reasonable regulations.
Proposals for plain packaging are not based on, or consistent with, a credible and scientifically rigorous understanding of the behavior of smokers. Evidence shows that plain packaging is not effective at reducing smoking rates or changing smoking behavior. In fact, the latest government data from Australia, which introduced plain packaging in December 2012, shows that the long-term decline in smoking rates has stalled. Since plain packaging was introduced, illegal tobacco consumption has increased.
As our operating environment is highly regulated, the JT Group has a number of position statements on a range of topics. These are available to read online:
www.jti.com/our-views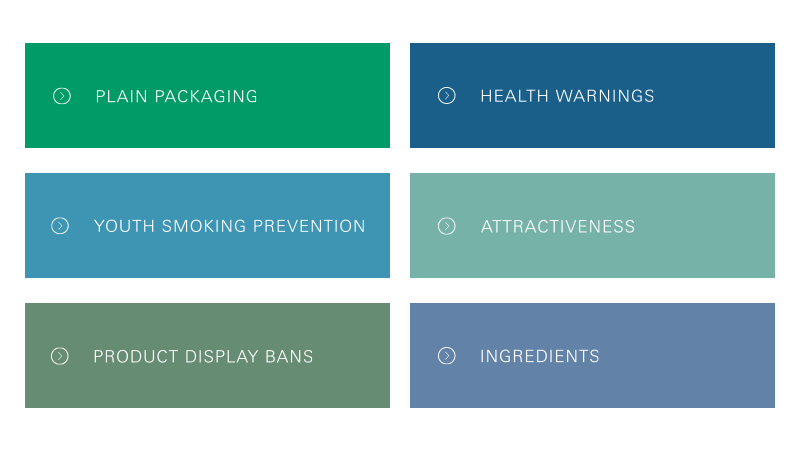 Related links
Political and regulatory landscape