Message from the CEO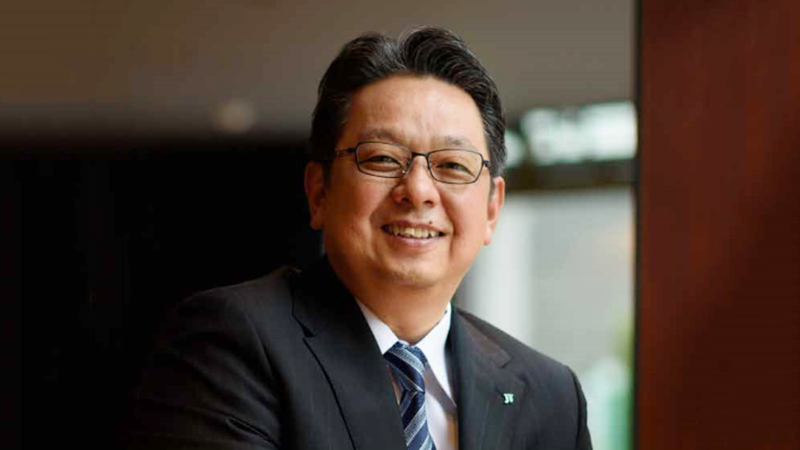 Masamichi Terabatake
Chief Executive Officer
For our Group to grow sustainably, it is vital for us to contribute to the sustainable development of our society through our business activities. As sustainability is at the heart of our management, we have set out a Group-wide sustainability strategy. We have also formulated a sustainability strategy for each of our businesses, bearing in mind the unique challenges they face.


Three absolute requirements of our Group-wide sustainability strategy are 'respect for human rights', 'an improved social and environmental impact,' and 'good governance and business standards'. These are the foundations for a sustainable business. For our tobacco business, our core business, we have set four focus areas: 'products and services', 'people', 'supply chain', and 'regulatory environment and illegal trade'. For these four focus areas, we have also established 11 specific targets and initiatives. By working towards the targets and promoting the initiatives, we will be supporting the United Nations' Sustainable Development Goals (SDGs).
In 2019, for the first time, we reported to our stakeholders on our progress toward the 11 specific targets for our tobacco business. Our pharmaceutical and processed food businesses both finished setting out their respective focus areas and targets, so we now have a sustainability strategy for all of our business segments. Going forward, we will continue to engage with our stakeholders and make concerted efforts to ensure that we can all grow together to secure a sustainable future.

Read more about our targets for each business.
Interview with our Chief Sustainability Officer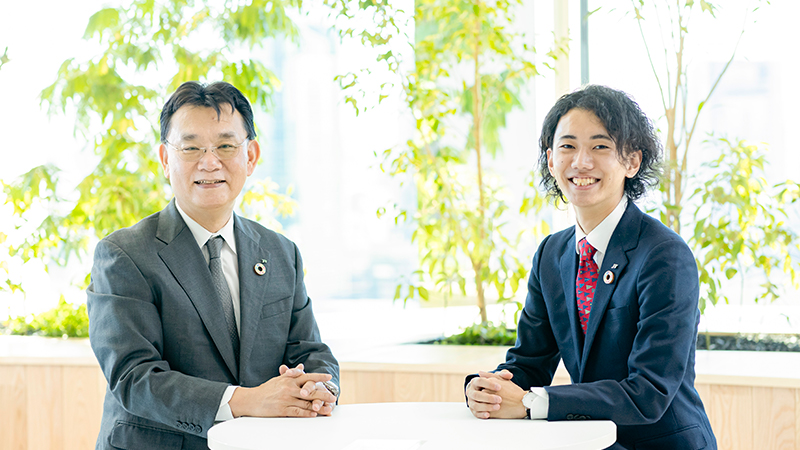 Kazuhito Yamashita
Director and Senior Vice President
Chief Sustainability Officer, Compliance and General Affairs
Q. Tell us about your role as the Chief Sustainability Officer (CSO).
Contributing to the sustainable development of society is essential for the JT Group to achieve sustainable growth, and to meet the needs of our four key stakeholder groups under our 4S model. As a director of the company and CSO, it is my role to look to the future and pursue sustainability management across our Group. With a mid- to long-term perspective, we aim to achieve sustainable growth for the society in which we operate and for the JT Group, so that we can respond to the expectations of our stakeholders.


Q. How do you pursue sustainability management in your organization?
In 2015, we identified 22 material issues relevant to the JT Group and our stakeholders to achieve sustainable growth. In 2016, our Corporate Governance Policy stipulated that 'the Board of Directors, based on the understanding that measures towards domestic and foreign issues on sustainability are an essential part of risk management, shall receive reports as necessary through Members of the Board in charge of sustainability and proactively work on such issues, such as by holding discussions.' As the policy demonstrates, pursuing sustainability is at the heart of what we do, and it is one of the key management issues for the Group.

In 2019, to build on our past sustainability initiatives and continue evolving, we re-organized our organizational structure and established a sustainability management division at JT headquarters and appointed a Senior Vice President for sustainability. We also set out a sustainability strategy encompassing the whole Group. We are now supporting Group businesses to implement their respective sustainability strategies. By doing so, we are engaged in environmental management, risk management, supply chain management, initiatives for respecting human rights, and community investment on a day-to-day basis.




Q. Tell us about your sustainability issues and challenges.
The three absolute requirements for the Group are 'respect for human rights,' 'an improved social and environmental impact,' and 'good governance and business standards.'

The JT Group operates in more than 130 countries and regions. In some of these markets, human rights are at risk – and respect for human rights is a crucial aspect of the Group's sustainability. We set out the JT Group Human Rights Policy in 2016. Since then, we have been training our employees on human rights through regular e-learning courses. We perform human rights due diligence for our operations globally. We work to ensure that human rights are respected not only within our own Group, but also throughout our value chain.

As we all are increasingly concerned about the effects of climate change, corporations are working on improving environmental impact. We have set out the JT Group Environment Plan 2030 to address these issues within our Group and throughout our value chain. We are working on reducing GHG emissions, shifting to renewable energy, managing water risks, conserving forest resources, and further reducing the environmental impact of waste.

To improve our social impact, we prioritize three areas: 'reducing inequalities,' 'improving community resilience in disaster-prone areas,' and 'protecting the environment.' What we would like to see is inclusiveness both in society as a whole and indeed in all the communities we operate in. We also provide employees with opportunities for volunteering so that they can proactively contribute to local communities.

Corporate governance is one of the most important management issues. Governance is a mechanism for ensuring that transparent, fair, prompt, and resolute decision-making is carried out in line with the 4S model, our management principles. Going forward, we will keep our governance under review for continuous improvement to ensure it is fit for the purpose.




Q. Can you tell us about the sustainability strategy for each of your businesses?
Each business has set out its own 'focus areas,' with specific targets. Back in 2018, our tobacco business had four focus areas and a total of 11 targets. By pursuing such targets, we believe we can support and contribute to achieving the United Nations' Sustainable Development Goals. I'm pleased to say this is the first time we are reporting on progress toward achieving the 11 targets of our tobacco business.

During 2019, our pharmaceutical and processed food businesses set out their own sustainability strategies, focus areas, and targets. Our sustainability strategy for the entire Group is now in place.




Q. Can you give us some insights into the sustainability strategy for your tobacco business?
E-cigarettes and tobacco vapor products are gaining popularity as alternatives to traditional combustible products. With the surge of a new category of Reduced-Risk Products (RRP), (Products with the potential to reduce the risks associated with smoking.) the tobacco industry is undergoing a major change. We have selected 'products and services' as one of our focus areas. Understanding what consumers are looking for is essential. We would like to offer our customers an even greater choice of products by focusing on quality, innovation, and reduced-risk potential.

For the Group to achieve sustainable growth, the skills and commitment of our employees are vital. The communities we operate in, and the people who live in them are important stakeholders. For this reason, we focus on 'Investing in people,' and our tobacco, pharmaceutical, and processed food businesses have each chosen this topic as one of their focus areas.

Supply chain management is a top priority for our business. Leaf tobacco is the most important raw material for us, so its stable and sustainable procurement is crucial to supply chain management. We will continue to implement Agricultural Labor Practices (ALP), our core program for managing the leaf tobacco supply chain and responding to societal issues.

The tobacco industry is highly regulated. The restrictions imposed through regulation are increasing every year and it is an area of concern to our stakeholders. We will protect our ability to participate in public policy debates and continue to engage in dialogue. Illegal trade not only undermines our business, but it can cause serious harm to our consumers and society. We will continue to engage with law enforcement agencies, exchanging intelligence about illegal tobacco products to help reduce illegal trade.




Q. How are you raising awareness of sustainability within the Group?
We are working to raise each and every employee's awareness of sustainability through a variety of initiatives. These include communications from top management to employees, seminars on ESG (environmental, social, and governance) issues, workshops to enhance employees' understanding of the United Nations' Sustainable Development Goals, and briefings at our operational sites.

In our international tobacco business, our Sustainability Awards celebrate outstanding sustainability projects undertaken by our own employees. Through these initiatives, we encourage our employees to think about and act on sustainability.




Q. Tell us about your aspirations for the future.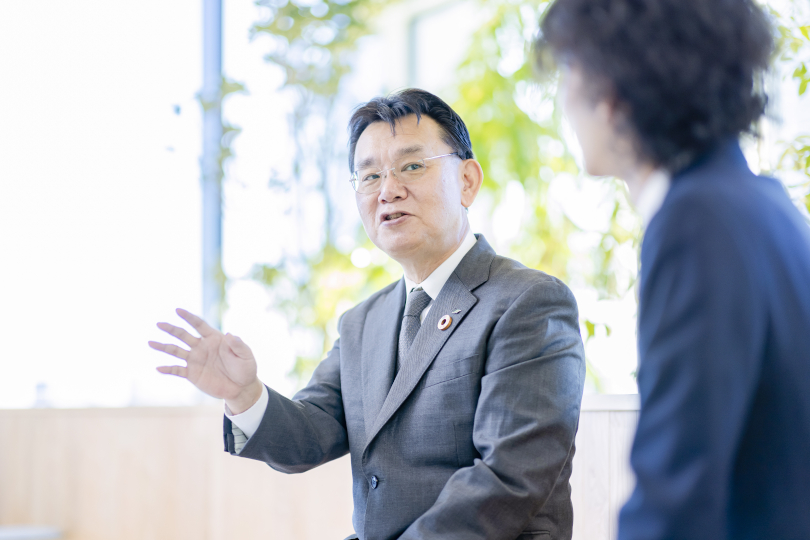 As we work day in, day out to grow our business, my dream is for everyone in our Group to think about sustainability and to feel that they are contributing to improving the society we are all part of. I believe this is the direction we should be heading in – I hope I can be proactive in leading the way.



Related links