The 4S model, Materiality, Sustainability strategy, SDGs
Overview
The 4S model
We strive to fulfill our responsibilities to our valued consumers, shareholders, employees and the wider society. Carefully considering the respective interests of these four key stakeholder groups, and exceeding their expectations wherever we can.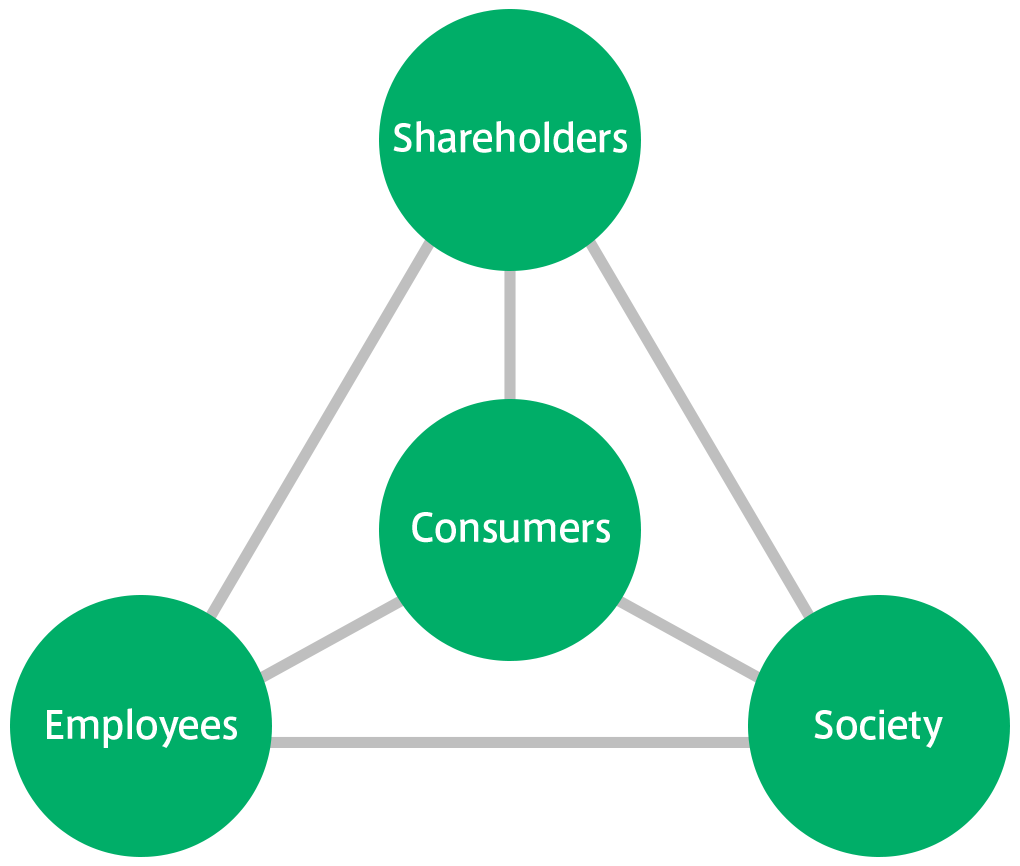 Consumers, shareholders, employees, and society - these are the four stakeholder groups (4S) at the heart of everything we do at JT. Our commitment to serving these groups is represented in the 4S model.

We always try to exceed the expectations of our four stakeholder groups wherever we can, based on the principles of the 4S model. For our consumers, this means offering superior products that meet or go beyond their evolving needs. For our shareholders, we aim to enhance returns based on our profit growth outlook and strike a balance between providing shareholder returns and investing in the business for future profit growth. For our employees, we will work to ensure that we maintain our reputation as a respected member of the community and a company that they can feel proud to be a part of. And we will continue to contribute to society as a whole, recognizing that our growth benefits from a sustainable society, and in doing so enhance our corporate value.

Our vision, based on the 4S model, is to achieve global growth by providing value unique to our Group. Our mission - our concrete action plan to achieve our vision - is to create, develop, and nurture our brands to meet consumers' needs while understanding and respecting the environment and the diversity present in society.
The JT Group's material issues
To help the JT Group to grow, and to build a sustainable future as a member of the society in which we operate, we have identified a list of high-priority material issues. Our materiality is based on the JT Group's management principle, the 4S model. In 2015, we performed a materiality assessment covering the entire Group for the first time, selecting material issues with a medium or high level of importance for the JT Group and for our external stakeholders.

To identify our material issues, we began with a media and peer review, which generated a list of sustainability topics relevant to the Group. In addition to interviews with employees, our CEO, and other members of top management, we also held interviews with 17 external stakeholders, including suppliers, investors, labor unions, NGOs, and industry associations. Our top management then approved the results of the materiality assessment during a special workshop.

This process resulted in a final list of 22 material issues. We then divided these into two categories according to their level of importance to the JT Group and our external stakeholders: medium or high.
Since our first materiality assessment, we have noted increasing public concern about the environment. We share this concern and have therefore repositioned "Environment" from Medium-Medium to High-High in the above matrix. We will continue to build on our effort to reduce our environmental impact on the planet. Read more about our approach in the Environment section.

Looking ahead, we plan to carry out periodic materiality assessments to ensure that our priorities are up-to-date and consistent with the current needs.
Sustainability strategy overview
The JT Group's sustainability strategy is formulated based on the 4S model, our management principles, and encompasses our materiality analyses. It encourages us to look beyond our usual planning cycle period and think about the longevity of our business, the future of our planet and the society we live in. The foundations of our sustainability strategy, which apply across the Group, are our "three absolute requirements for sustainability."


The JT Group's three absolute requirements for sustainability
An improved social and environmental impact

Good governance and business standards
Tobacco business sustainability strategy
We have identified priority areas for each business segment. The tobacco business, our core business, has selected the following four focus areas with its aspirational goals. In addition, we have set
11 specific targets.
| Focus areas | Aspirational goals |
| --- | --- |
| Products and services | We will be a total tobacco company offering consumers an even greater choice of products by focusing on quality, innovation, and reduced-risk potential. |
| People | We will be the employer of choice by investing in people. |
| Supply chain | We will reduce environmental and social risks, and enable transparent and responsible practices across our supply chain. |
| Regulatory environment and illegal trade | We will ensure the Company is included in policymaking leading to fair and balanced regulation, and enhance our cooperation with governments to combat illegal trade. |
Pharmaceutical business sustainability strategy
Throughout 2019, our pharmaceutical business held numerous discussions on sustainability and set out three focus areas. The mission of our pharmaceutical business is to create innovative, original drugs to support patients in the shortest time possible. In view of this mission, we have selected "
products and services
" and "
product safety and responsibility
" as our focus areas. As talent development of our employees is essential to first-in-class drug discovery, we have also selected "
people
" as our focus area. In total, we have set
five specific targets
for these pharmaceutical business focus areas.
| Focus areas | Aspirational goals |
| --- | --- |
| Products and services | We will create innovative, original drugs to support patients in the shortest time possible. |
| People | We will strive to nurture talent development which enables us to create first-in-class (FIC) drugs. |
| Product safety and responsibility | We will strictly comply with all relevant laws, regulations, and industry standards in order to deliver safe drugs to patients. |
Processed food business sustainability strategy
Our mission in the processed food business is to deliver safe, high-quality products to consumers. One of the focus areas that we have selected is "
products and services.
" We aim to continuously deliver products with commitment to quality and technology, in line with consumer needs. In the processed food business also, we will place emphasis on "
people.
" We will strive to ensure workplace safety and invest in our people. Our third focus area is the "
supply chain.
" We will continue to deliver safe products to our consumers by working on reducing social and environmental impacts, to ensure that our supply chain is sustainable over the mid- to long-term. In total, there are
eight targets
set for the focus areas in the processed food business.
| Focus areas | Aspirational goals |
| --- | --- |
| Products and services | We will continue to provide high-quality, technology-driven products in response to our customer's needs, to satisfaction and trust. |
| People | We will ensure workplace safety for our employees, while continuously investing in people who can contribute to enhancing corporate value. |
| Supply chain | We will reduce social and environmental impacts and continue to deliver safe products to consumers. |
Contribution to the SDGs
The JT Group supports the Sustainable Development Goals (SDGs) adopted by the United Nations. Through our business activities, the JT Group will contribute to the SDGs related to our business and its environment. We have mapped related SDGs against our initiatives for sustainable business, and identified the nine SDGs to which our business can best contribute.



The 4S model, Materiality, Sustainability strategy, SDGs