Our responsibility to stakeholders
This provides a framework for raising corporate value and achieving sustainable profit growth in the mid to long term.

Strong governance is as much about ensuring the successful operation of our business as it is about our role in society. Our aim is to continuously enhance our organization to build lasting value that we can share with our valued consumers, shareholders, employees, and society as a whole. The JT Corporate Governance Policy fully reflects this objective as well as our commitments to ethical conduct, sustainability, and diversity.
Our corporate governance system
Our governance framework is based on a thorough system of internal controls.

Effective compliance, audit, and risk management are critical to conducting business in line with our management principles, and our board of directors regularly reviews internal reports to ensure we are acting in accordance with our commitments. We have put in place an Auditor Office dedicated to supporting Audit & Supervisory Board members in effectively carrying out their duties. We also encourage collaboration among group companies as we look to strengthen our management foundation and improve our governance on an ongoing basis.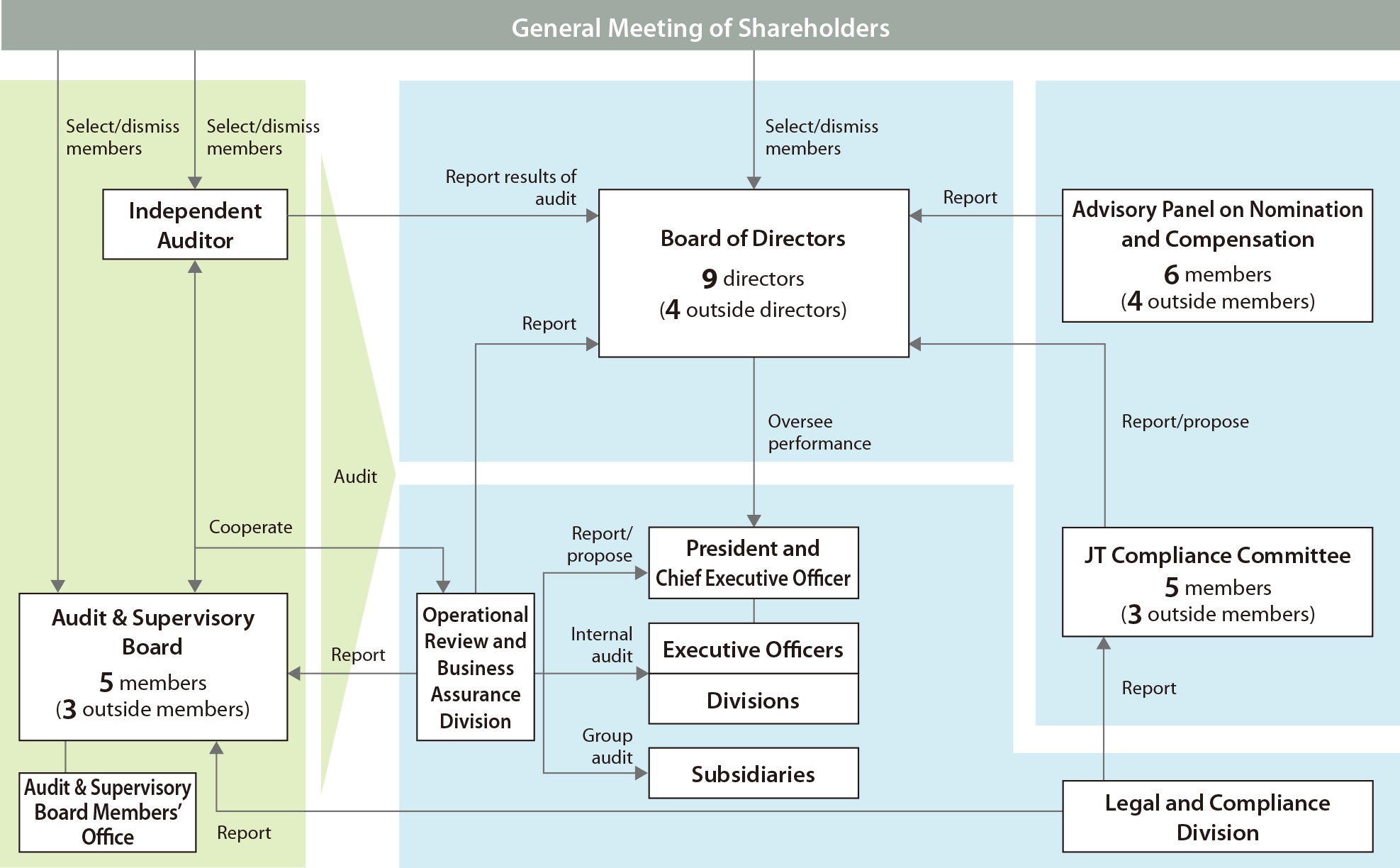 During FY2018:
JT Corporate Governance Report was updated on March 20, 2019.
Board of directors held 15 board meetings with attendance rate of 99%.
3 JT Group Compliance Committee were held to discuss key compliance issues.
Executive remuneration
The remuneration of the board of directors, including the CEO, comprise of:
1) base salary paid monthly
2) executive bonus linked to our business performance in the relevant year, and
3) stock option grants, the value of which is linked to our mid- to long-term company value.
As for 2), bonus payment of executive directors, this is linked to the group profit target, which is the adjusted operating profit at constant currency. The bonus payment of executive director are also linked to profit for the period.
As for 3), the stock option scheme is a time vesting long-term incentive scheme, as stock options can only be exercised by our executive post their retirement. The scheme is therefore aligned with our long-term corporate value.
Corporate governance evolution
FY2000 Establishment of the Compliance Committee
FY2001 Introduction of executive officer system
FY2006 Establishment of the Compensation Advisory Panel
FY2012 Outside directors elected to the board
FY2016 Establishment of JT Corporate Governance Policy
Learn more about:
The JT Corporate Governance Policy