Overview
In the processed food business, we seek to provide safe and delicious food for consumers, in the hope that they will choose our products for their loved ones. We aim to satisfy our consumers by offering food products that meet the needs of their daily lives.

Our processed food business is dedicated to delivering safe, high-quality food products to consumers. We are also mindful of the environmental impacts of our products and operations, and we make continuous improvements to these wherever possible.
Our processed food business value chain
*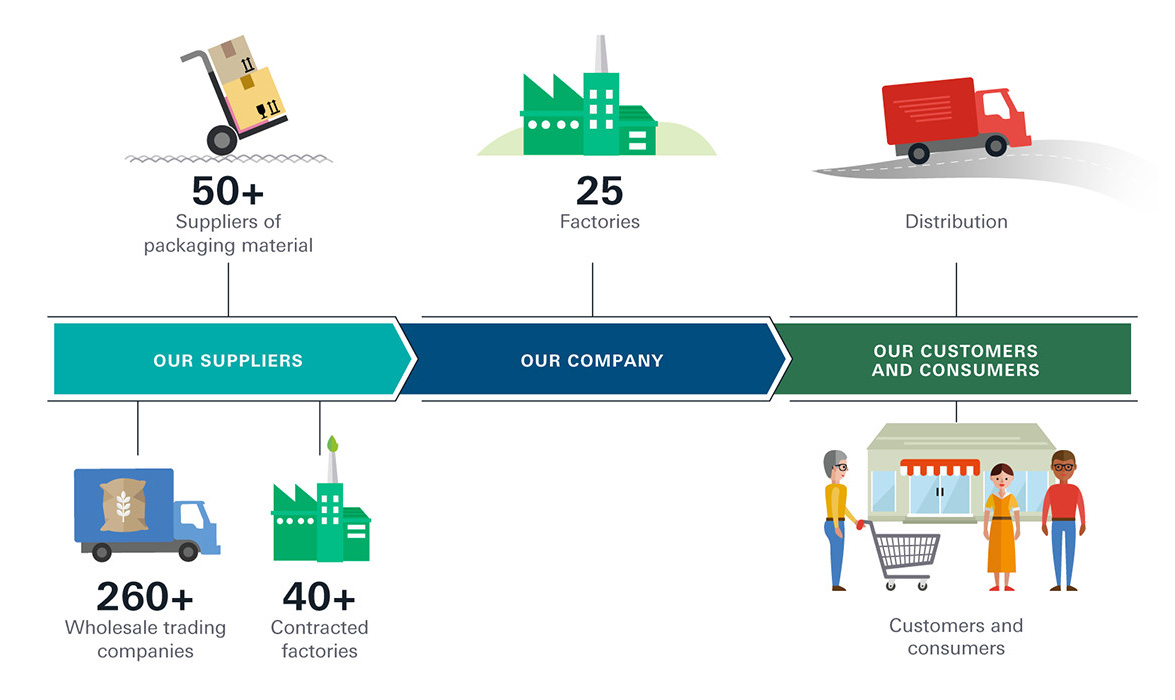 *

This diagram represents the value chain of products for frozen and ambient foods. We do not deal directly with raw material producers – such as growers – who provide raw materials to the trading firms or to the contracted factories that supply us.
Processed food business sustainability strategy
Throughout 2019, we held numerous discussions on sustainability and set out three focus areas. One of the focus areas that we selected was 'products and services'. We aim to continuously deliver products with commitment to quality and technology, in line with consumer needs. We will place emphasis on 'people'. We will strive to ensure workplace safety and invest in our people. Our third focus area is the 'supply chain'. We will continue to deliver safe products to our consumers by working on reducing social and environmental impacts, to ensure that our supply chain is sustainable over the mid- to long-term. In total, there are eight targets set for the focus areas in the processed food business.

These will provide a solid basis for measuring and benchmarking our sustainability performance, and support the sustainability of the JT Group. We will be updating our progress regularly, as we strive to contribute and fulfill our commitments that we have made to our stakeholders and to ourselves.
Our business operation and sustainability
We have a rigorous quality and process control system based on the four priorities of food safety, food defense, food quality, and food communication.