Reduced-Risk Products (RRP)
For the latest information, please see Integrated Report 2020. Information below is for FY2019. FY2020 online content will be released in June 2021.
Exceeding expectations with products and services
Aspirational goal
We will be a total tobacco company, offering consumers an even greater choice of products by focusing on quality, innovation, and reduced-risk potential.
Target
We will lead in providing the widest range of consumer choice in the Reduced-Risk Product category.
Progress
At the end of 2019, our Reduced-Risk Product portfolio was present in 28 countries, with a choice of three tobacco vapor offerings (T-Vapor) and five types of e-cigarettes (E-Vapor).
Our approach
As alternatives to traditional combustible products, e-cigarettes (E-Vapor) and tobacco vapor products (T-Vapor) are gaining popularity with consumers around the world. Our industry is changing, but our commitment to consumer choice remains.

We are always listening and reacting to the changing tastes of adult smokers and vapers around the world. We develop, test, and bring to market new and innovative forms of Reduced-Risk Products (Products with the potential to reduce the risks associated with smoking.) and offer real benefits to consumers, society, and our business.

While we believe that vaping products have reduced-risk potential compared to smoking cigarettes, they should only be used by adult consumers who are informed of the associated risks, including nicotine addiction.

Between 2018 and 2020, we are investing 100 billion Yen in Reduced-Risk Products, to further develop our supply chain and expand our research and development capabilities.
Putting consumers first
For products to have the potential to reduce the risks associated with smoking, consumers must first understand and appreciate their value. We therefore take a consumer-centric approach towards research and development, and focus on four major factors that motivate consumers to consider Reduced-Risk Products:
The potential for a product to reduce the risks associated with smoking
Affordability and value for money
Social considerations – seeking products with low smell, so as not to disturb others
The convenience of being able to use a product in a wide variety of locations and situations
This approach to our Reduced-Risk Product research and development reflects the Harm Reduction Equation shown below, and helps us to concentrate on exceeding the expectations of all of our key stakeholders: consumers, shareholders, employees, and the wider society.

The success of any harm reduction intervention is dependent on two factors: its potential to reduce the risks associated with a particular activity and the number of people who adopt the intervention. Their potential value is lost when consumers do not accept these alternative propositions.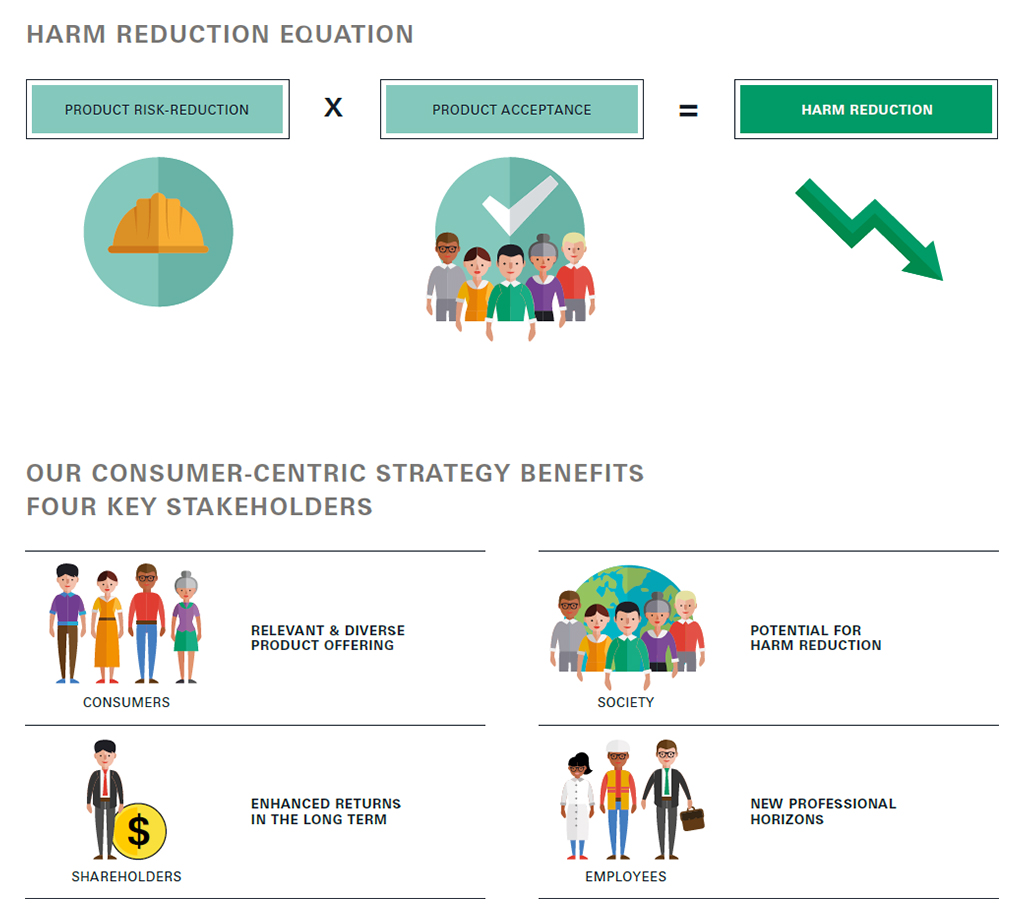 Empowering consumer choice
We support consumers to make informed choices, by providing information acquired through the scientific assessment of the products they may wish to use.

At the end of 2019, our Reduced-Risk Product portfolio was present in 28 countries, with a choice of three tobacco vapor offerings (T-Vapor) and five types of e-cigarettes (E-Vapor).
What is T-Vapor?

T-Vapor products contain tobacco that is heated (but not burnt) to create an inhalable vapor. Consumers particularly enjoy the wider social freedoms that these bring, compared to conventional products. Our T-Vapor category currently consists of Heated Tobacco and Tobacco-Infused Vapor products:

›› Heated Tobacco delivers the satisfaction of a tobacco experience

›› Tobacco-Infused Vapor addresses the consumer needs of social consideration and convenience, while continuing to deliver a true tobacco taste experience

What is E-Vapor?

Also known as electronic cigarettes, E-Vapor products heat a liquid that usually contains nicotine, but no tobacco. They create an inhalable vapor by electrically heating a liquid (known as 'e-liquid') contained within the device or a replaceable cartridge. Consumers are particularly drawn to the wide range of different devices and flavors available. These products offer optimum levels of social consideration, convenience, and affordability.
Our product portfolio
(As of December 2019)
Where are our Reduced-Risk Products available?
(As of December 2019)
Reduced-Risk Products Supply chain
(As of December 2019)
We have established a dedicated supply chain for our Reduced-Risk Products, building strong supplier partnerships that support business expansion and meet the demands of our increasingly sophisticated portfolio. In addition to our in-house production capabilities, we source from manufacturers across Asia and Europe.

In 2018, we opened an e-liquids (E-Vapor) production facility on the premises of our manufacturing site in Gostkow, Poland. We then further boosted our in-house production in 2019, with the bringing into service of a new Ploom products (T-Vapor) plant in the same location. These new facilities will enable us to keep up with the demand for e-liquids containing nicotine, tobacco capsules, and tobacco sticks in expanding markets across the world.
JT SCIENCE: AN ONLINE RESOURCE FOR ALL
There are currently no globally agreed standards for assessing the risk-reduction of the alternatives to combustible tobacco products. Our team of scientists is developing methods and applying them in research contributing to the increasing scientific evidence on Reduced-Risk Products. We will continue with these studies and share progress updates on our science website, JT Science.

JT Science is a valuable online resource for both scientists and non-scientists. Our mission is to inform, educate, and collaborate with anyone who is interested in learning about the science behind the products – from consumers to scientists to the regulatory community.

The aim of JT Science is to provide an open, balanced, and fair platform, where we can share factual scientific data and assessments in a transparent way. The results of our scientific studies evaluating our Reduced-Risk Products are publicly available.
Responsible recycling and disposal schemes for Reduced-Risk Products
Read about the Environment and our products.
Our view on Reduced-Risk Product regulation
Read about our perspective on Reduced-Risk Product regulation.
Notes:

This section is intended only to explain the business operations of the JT Group, not to promote sales of tobacco or vaping products or encourage smoking or vaping among consumers.
Reduced-Risk Products (RRP)